I recently attended a seminar by Professional Organizer Robynne Pendaries, on decluttering and better organising your space – a hot topic for many people as we move into spring. She touched on many fascinating topics (including trying to live with hoarder partners), but one that really grabbed my attention was Visual Clutter.  In this context, she was talking about the overwhelming effect of too many conflicting colours, patterns, textures, to the point that you can no longer concentrate on a task or activity.
This got me thinking about interior design, and one of the current trends for 'curating'.  The magazines are full of gorgeous glass cloches or cabinets with carefully put-together collections of shells, bones, little objects. And of course visits to the homes of collectors with presentations of all sorts of collections – trophy heads on every wall, tribal masks, butterfly and insect collections, piles of books everywhere…But its a tricky look to pull off.
To me, a lack of focus combined with a lack of places to rest the eye, represent  examples of Visual Clutter. Some people can live quite happily with a space packed full of crazy colours, shapes, materials, textures, not a clear surface in sight. But for many people, this is just clutter, and clutter can have a detrimental effect in a number of ways – losing things, feeling disorganized, causing or exacerbating relationship problems…
So how to pull off the 'serious collector' look without coming across as an eccentric aunty or uncle and creating a dust-laden den of visual fatigue? Corral and edit those objects! Restrict the space you dedicate to collections – just a corner of the room, or just around a single piece of furniture. Glass cloches are great for helping a collection look purposeful, dust free, and limits how much can be displayed. But one on its own looks lonely, and I think more than 2 or 3 would be overdoing it. A glass-fronted cabinet, if you have the space, can look fantastic as long as the contents are well edited: have something to unify them, such as colour, and play about with scale.  A tray is a wonderful way to display a collection of objects – that way you can't pile on too many things, they are grouped together rather than spread around the room, and putting almost anything on a lovely tray instantly improves the way it looks.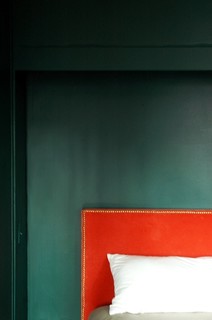 After the summer spate of neon brights, the colour palette for Winter 2013/14 feels like a welcome relief. A soothing palette of more mineral-type colours was evident at the Maison et Objet tradeshow.
I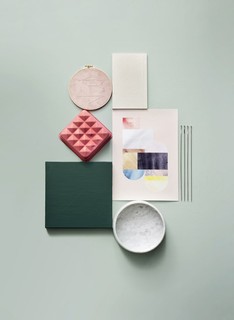 noticed gorgeous shades of green in muted tones such as sage and artichoke; a toned down version of orange, with a more rusty feel to it, and mineral blue, from the palest shade through to a deep pure form. These colours were complemented by a soft bone colour and a pale pinky-apricot as the neutrals.
I found these colours so cocooning and relaxing, I wanted to curl up in them right there!
Of course, not many of us want to change our home colour schemes by the season, though just as we update our wardrobes with little touches here and there, so too our homes. These lovely ceramic pieces by Dietland Wolf bring in the colours beautifully.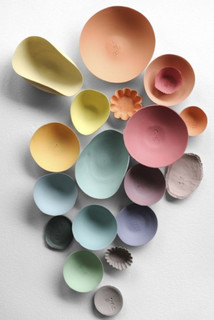 If you are looking for a colour update on a larger scale, though, I would have no fear of using the colours in this palette. They are inherently easy to live with: the orange is warm and welcoming but not overly stimulating. The greens are gentle, and with a high level of grey in them, work themselves easily into a neutral palette. The blues, paired with the rusty orange or almost any other warm colour, would create a striking mix.