Christmas is one of my favourite times of year, an excuse to go all out in changing things round, prettying things up, and indulging the big kid in me. Having three young children who are enthusiastic about Christmas definitely adds to the fun. It does add a little tension though, as my design control freak side fights to take charge of decorating the tree while the kids shout 'more tinsel! more baubles!'.  But hey, in a few years they will no longer be interested, so I let them take charge of the tree and I try to focus on other aspects such as the mantel, the entryway, and of course the table for the big event.
Choosing a theme or style is never easy for me, as I love them all. Last year I wanted lots of kitsch colour: neon pink, lime green, and sparkle everywhere. This year I am in a more woodlands/traditional mood, appreciating the simple elegance of green foliage, natural wood, biscuit-fired porcelain, and touches of deep red to warm things up.
The Winter Woodlands Vignette here suggests a cosy, 'evening round the fire with hot chocolate', and would make a warm welcome in an entryway.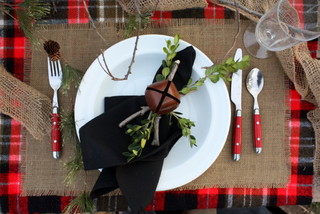 This place setting suggests a simple and friendly Christmas feast, with its traditional/rustic tartan colour scheme. It  is given a modern twist with the black napkin and bell/twig/foliage combo.
Have fun with whatever theme you choose, and enjoy the season!