I recently attended a seminar by Professional Organizer Robynne Pendaries, on decluttering and better organising your space – a hot topic for many people as we move into spring. She touched on many fascinating topics (including trying to live with hoarder partners), but one that really grabbed my attention was Visual Clutter.  In this context, she was talking about the overwhelming effect of too many conflicting colours, patterns, textures, to the point that you can no longer concentrate on a task or activity.
This got me thinking about interior design, and one of the current trends for 'curating'.  The magazines are full of gorgeous glass cloches or cabinets with carefully put-together collections of shells, bones, little objects. And of course visits to the homes of collectors with presentations of all sorts of collections – trophy heads on every wall, tribal masks, butterfly and insect collections, piles of books everywhere…But its a tricky look to pull off.
To me, a lack of focus combined with a lack of places to rest the eye, represent  examples of Visual Clutter. Some people can live quite happily with a space packed full of crazy colours, shapes, materials, textures, not a clear surface in sight. But for many people, this is just clutter, and clutter can have a detrimental effect in a number of ways – losing things, feeling disorganized, causing or exacerbating relationship problems…
So how to pull off the 'serious collector' look without coming across as an eccentric aunty or uncle and creating a dust-laden den of visual fatigue? Corral and edit those objects! Restrict the space you dedicate to collections – just a corner of the room, or just around a single piece of furniture. Glass cloches are great for helping a collection look purposeful, dust free, and limits how much can be displayed. But one on its own looks lonely, and I think more than 2 or 3 would be overdoing it. A glass-fronted cabinet, if you have the space, can look fantastic as long as the contents are well edited: have something to unify them, such as colour, and play about with scale.  A tray is a wonderful way to display a collection of objects – that way you can't pile on too many things, they are grouped together rather than spread around the room, and putting almost anything on a lovely tray instantly improves the way it looks.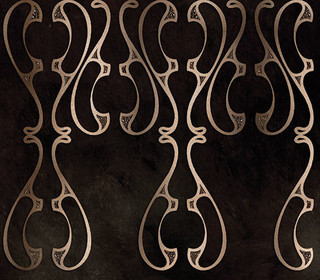 I saw the most amazing, innovative, luxurious wallpaper recently, and I am craving a space to introduce it to. It is handcrafted wallpaper by Meystyle, with LED lights integrated into the paper. It creates a gorgeous, intimate feeling, perfect for a dressing or powder-room, or any space to sit and dream  in!
Speaking of wallpaper, I have a love-hate relationship with it. Love, love, love beautiful prints, colours, patterns, will spend hours drooling over the thousands of delightful papers out there.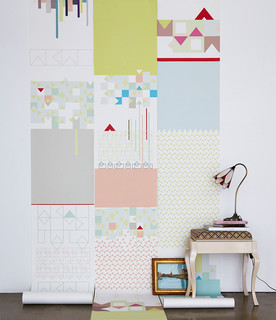 Just take a look at the latest innovations from Kirath Ghundoo, Surface Pattern Designer.  She produces geometric designs onto wallpaper, intended to be randomly put together (how easy is that! No pattern matching to worry about) creating unique combinations each time. I love it.
But I hate, hate, HATE those vinyl puffer-paint-finished plasticky wallpapers you find in big DIY stores. Yes, ok, I am a complete wallpaper snob. But those puffy vinyls  just scream 'interior pollution' at me – aside from the environmental impact of producing those papers, just what level of VOCs (volatile organic compounds) are floating off into your home once you put that stuff on your walls?
There are so many wallpapers available now which not only gorgeous, they are much more environmentally friendly. Using sustainably forested paper, and/or recycled papers; clay coatings instead of vinyl; natural dyes free from heavy metals and carcinogens.  Here are a few examples:
"Little Trees" in smoke, and "Figs" in the Posset colourway by MissPrint – this UK company uses PEFC certified papers and organic inks to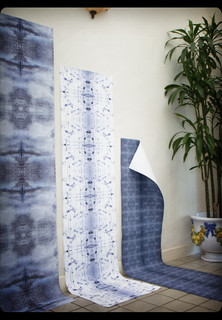 produce stylish wallpapers.
Eskayel, based in the US, use papers made from natural and recycled materials, clay-coated instead of vinyl finish, and the dreamy designs are handpainted.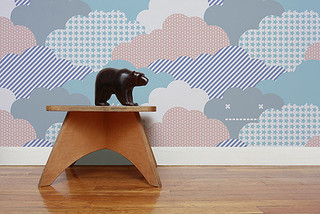 Also vinyl-free are Aimee Wilder's joyful and fun designs. Here is 'Clouds', perfect for a young space. Aimee Wilder's papers are clay coated and produced with chlorine-free fibres.
So next time someone comes waving vinyl, puffy-finish wallpaper at you, instead of running away you can smile and point them in the direction of some great alternatives.