I recently attended a seminar by Professional Organizer Robynne Pendaries, on decluttering and better organising your space – a hot topic for many people as we move into spring. She touched on many fascinating topics (including trying to live with hoarder partners), but one that really grabbed my attention was Visual Clutter.  In this context, she was talking about the overwhelming effect of too many conflicting colours, patterns, textures, to the point that you can no longer concentrate on a task or activity.
This got me thinking about interior design, and one of the current trends for 'curating'.  The magazines are full of gorgeous glass cloches or cabinets with carefully put-together collections of shells, bones, little objects. And of course visits to the homes of collectors with presentations of all sorts of collections – trophy heads on every wall, tribal masks, butterfly and insect collections, piles of books everywhere…But its a tricky look to pull off.
To me, a lack of focus combined with a lack of places to rest the eye, represent  examples of Visual Clutter. Some people can live quite happily with a space packed full of crazy colours, shapes, materials, textures, not a clear surface in sight. But for many people, this is just clutter, and clutter can have a detrimental effect in a number of ways – losing things, feeling disorganized, causing or exacerbating relationship problems…
So how to pull off the 'serious collector' look without coming across as an eccentric aunty or uncle and creating a dust-laden den of visual fatigue? Corral and edit those objects! Restrict the space you dedicate to collections – just a corner of the room, or just around a single piece of furniture. Glass cloches are great for helping a collection look purposeful, dust free, and limits how much can be displayed. But one on its own looks lonely, and I think more than 2 or 3 would be overdoing it. A glass-fronted cabinet, if you have the space, can look fantastic as long as the contents are well edited: have something to unify them, such as colour, and play about with scale.  A tray is a wonderful way to display a collection of objects – that way you can't pile on too many things, they are grouped together rather than spread around the room, and putting almost anything on a lovely tray instantly improves the way it looks.
Christmas is one of my favourite times of year, an excuse to go all out in changing things round, prettying things up, and indulging the big kid in me. Having three young children who are enthusiastic about Christmas definitely adds to the fun. It does add a little tension though, as my design control freak side fights to take charge of decorating the tree while the kids shout 'more tinsel! more baubles!'.  But hey, in a few years they will no longer be interested, so I let them take charge of the tree and I try to focus on other aspects such as the mantel, the entryway, and of course the table for the big event.
Choosing a theme or style is never easy for me, as I love them all. Last year I wanted lots of kitsch colour: neon pink, lime green, and sparkle everywhere. This year I am in a more woodlands/traditional mood, appreciating the simple elegance of green foliage, natural wood, biscuit-fired porcelain, and touches of deep red to warm things up.
The Winter Woodlands Vignette here suggests a cosy, 'evening round the fire with hot chocolate', and would make a warm welcome in an entryway.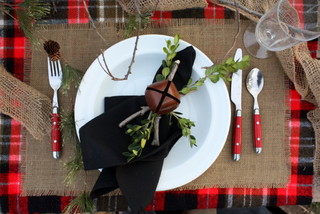 This place setting suggests a simple and friendly Christmas feast, with its traditional/rustic tartan colour scheme. It  is given a modern twist with the black napkin and bell/twig/foliage combo.
Have fun with whatever theme you choose, and enjoy the season!
Rugs are an absolute must for creating the finishing touch to just about any spac
e.  In a tiny space, a rug adds depth; in a large room or open plan area, rugs can help define spaces and add intimacy.  Many people assume the 'safe' option is to go for a plain rug in neutral tones, but I think these are actually best suited to a very specific look – ultra-contemporary, for example, or the scandinavian look with blonde woods and a mid-century modern feel to the furniture.
Going for pa
ttern and colour in a rug can really add the magic to your room. There will be a link between the motif or a colour in the overall decor and the rug, without overly matching, that creates that 'aha!' feeling, the look is complete. Rugs add a touch of luxury, soften hard edges, and invite you in to a space.
Oriental style rugs are superb for bringing pattern and colour into a scheme, without overwhelming. These are, if you like, the 'safe option'.
Becky Harris, writing for Houzz (a fabulous site for interior decor inspiration), put together a lovely ideabook on how these rugs work with any decorating style.
Since oriental rugs can be a significant investment, it is really important to see them in the space you intend before you commit to a purchase.  A good store should allow you to see the rug in your space before making your final choice.
Layering, or grouping smaller rugs, is another great way to create a very personal finishing touch to your space. To pull this off, you need to pay attention to the colours – there should be some consistency – and not too many colours competing for attention. The example shown here makes a strong statement with yellow and pink, and the two rugs are essential to pulling off the look.  Take away one rug or the other, and the scheme wouldn't work –  the stripey rug on its own would verge on tacky; the pattern rug alone would be nice but too much yellow. Together, its just right.